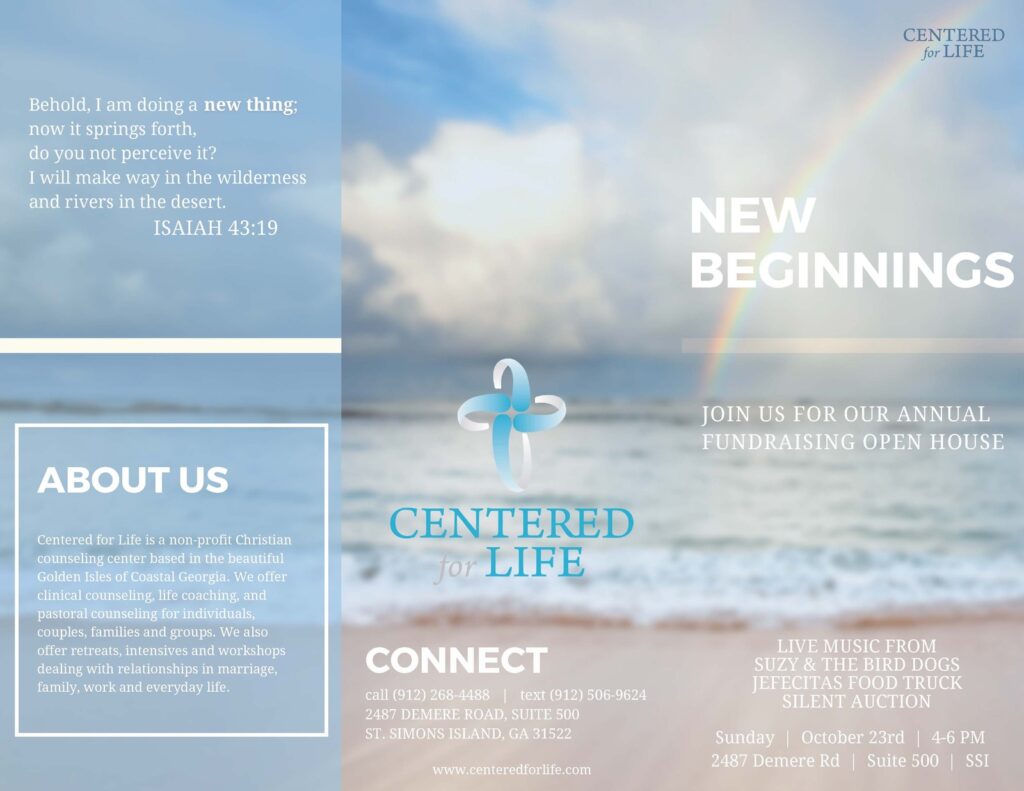 Fundraiser open house at Centered for Life
We've surpassed the $1 Million Mark! Centered for Life has been able to donate over $1Million in services to the community and beyond. We want to carry on the mission of helping others heal, regardless of their ability to pay. Please help CFL continue to restore hope to the Golden Isles. Your financial support allows others to walk towards healing and wholeness.
Please join us Sunday October 23rd, from 4pm – 6pm for our annual fundraising open house.
"Behold, I am doing a new thing; now it springs forth, do you not perceive it? I will make a way in the wilderness and rivers in the desert."  Isaiah 43:19
Restoration of Souls
$25,000
8 Hour Corporate Leadership Training
Redeeming Lives
$15,000
6 Hour Corporate Leadership Training
Rebuilding the Broken
$10,000
4 Hour Corporate Leadership Training
Rescuing the Lost
$7,500
3 Hour Corporate Leadership Training
Reaffirming Truth
$5,000
Custom 2 Hour Workshop
Rejuvenate the Weary
$2,500
2 Counseling/Coaching Sessions
Realign the Pathway
$1,000
1 Counseling/Coaching Session
Your contribution will make an eternal impact on countless lives.
Donate Online
The simplest way to support Centered for Life is to make a gift online. We accept credit cards and bank transfers.
Stock Gifts
Centered for Life is now set up to accept stock gifts or donations. For assistance please contact our office at 912-268-4488.
Mail Your Contribution
If you would prefer to send a check through the mail, please make the check payable to Centered for Life and mail to:
2487 Demere Road, Suite 500, St. Simons Island, GA 31522
Volunteer
If you are interested in volunteering at upcoming events, contact info@centeredforlife.com