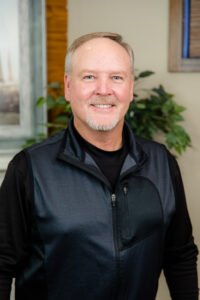 Steve Temmer
CEO, Life Coach and Pastoral Counselor
Steve is a graduate of Hardin Simmons University in Abilene, TX, in the area of Recreation and Religion. He worked in sales for Best Lock Corporation from 1985 to 1994 in both Denver and Kansas City.
From 1994 to 2006, Steve and Debby were on staff with Athletes in Action and the world headquarters for Campus Crusade for Christ. Then from 2006-2010, Steve was the Associate Pastor at St. Simons Community Church. He provided oversight to the adult ministries, which included: Group Life, Assimilation to Church Life, Pastoral Care, Hospital Visitation, Weddings, Funerals, and many other vital parts of church connection.
Steve provides pastoral counseling with individuals and couples at Centered for Life. He also provides spiritual leadership for community ministries. Steve, along with Debby, does marriage workshops and Private Marriage Intensives (PMI) for individual couples.